Dakota
Border Collie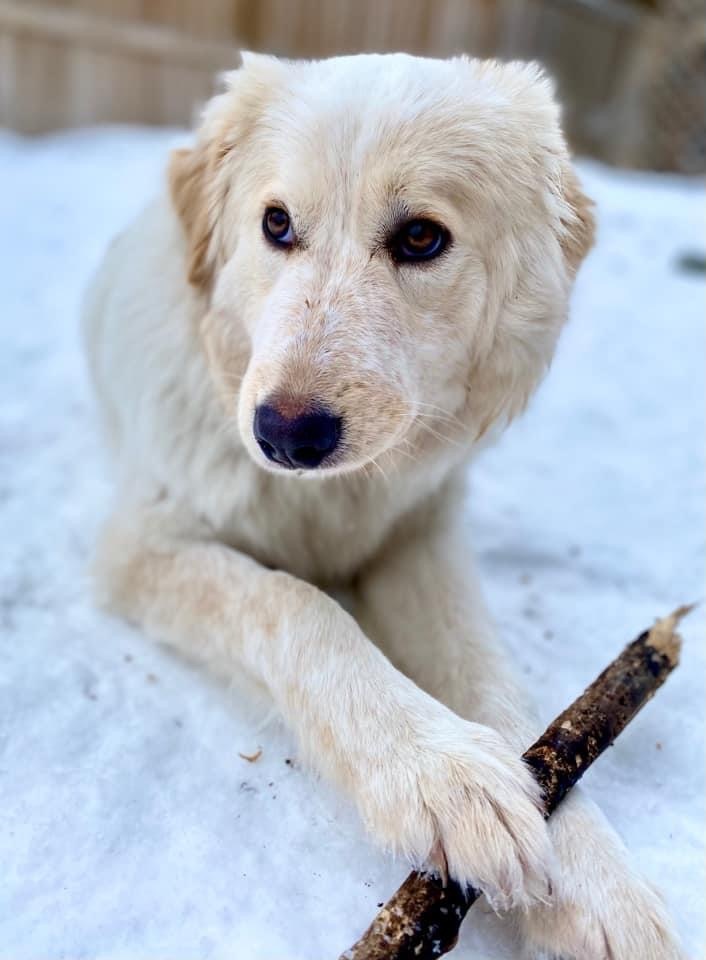 Type: Dog
Species: Dog
Age: Baby
Gender: Female
Coat: Long
Size: Medium
---
Breed: Border Collie
Mixed: Yes
Unknown: No
Colour: White / Cream
Spayed/Neutered: No
House Trained: No
Declawed: No
SpecialNeeds: No
Shots Current: Yes
---
Children: Yes
Dogs: Yes
Cats: Yes
How stunning are these siblings?! Dora, Dallas, and Dakota are all still searching for their forever homes.

These pups are SO sweet! They were born April 26th and are Border Collie, Pyrenees X. They are smaller for their age, so we believe they will stay around a typical Border Collie size.

Some more information from Dakota's foster:

Dakota came home to Saskatoon with us Christmas Eve. She was terrified and immediately put herself in a corner in our living room. After a day she started to come out of her shell, I believe this was mostly due to her desire to play with our dogs. Very quickly they were running around the yard having a blast with each other, my 15 year old dog even plays with her when he's up for it.

She's been with us 10 days now and she is still scared of my kids. She started cuddling my husband and I the second day but the kids were still a scary mystery to her. The kids are 9 and 12 years old, old enough to know to give her space and be calm around her. She is warming up to them slowly and will occasionally allow pets from them. Younger kids may be too scary for her. She is still very scared of our 4 cats but is getting curious about them.

Though very timid, her guardian instincts are strong. When outside she does a very good job keeping us safe from our neighbours and the people in the park behind the house. Thankfully, our neighbours are dog lovers and they know she is a foster but I do worry about her getting into trouble in the city for these behaviour which would be appreciated on a farm.

She would love some lad to protect, a friendly dog to play with and patient people to love her. She loves to be outside but also wants to come in for snuggles on the couch and a nap in her bed. We are happy to keep her as a foster but wold love to see her end up with a loving family on a farm where she can really shine.